The first international Fashion Colorworks 2010 Beading Contest is over! We would like to say THANK YOU to all entrants, jurors, and sponsors who helped us make the contest successful. 83 participants from 20 countries submitted 132 entries! Today we celebrate our bead holiday together, with our winners, all participants, jurors, sponsors, and bead lovers. In general, we reached our goal and feel happy! We are looking forward to seeing all of them in 2011 and hope that the next year contest would attract more artists!
FASHION COLORWORKS 2010 BEADING CONTEST. WINNERS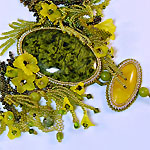 First Place Winner
Olga Vinnere Pettersson, Uppsala, Sweden ( email website )

Legends Of Lothlorien Necklace

Jurors say,

"What a beautiful plethora of leaves and blooms! You've captured the color palette to perfection - lovely, lovely piece!" "A beautifully crafted piece that perfectly illustrates the dreamlike story in the description. Excellent use of color." "Amazing craftsmanship, that's a masterpiece in using many seed bead colors and shades to feature a predefined color combination!"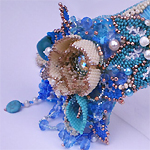 Second Place Winner
Evgeniya Semina, Orenburg, Russia ( email )

Jurors say,

"Your design is so delicate and ethereal. The way you used this color palette is beautiful - and the flower is stunning on it's bed of clear blue." "A beautiful combination of materials and techniques, resulting in a fairytale piece." "No doubt, that's one of the best contest entries in design, using different techniques, and implementing contest color palette."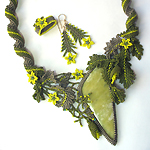 Third Place Winner
Larisa Berenshtein, Ramat Gan, Israel ( email website )

Jurors say,

"Beautiful composition, texture and balance. Your use of just a bit of yellow in the leaves help make the color palette pop and draws the eye from the stone to the flowers and up the spiral. Well done!" "Great use of color and shape and a nice mix of stitch variations." "One of the beadwork that exactly reflected colors in its natural beauty. Irreproachable work and use of additional materials."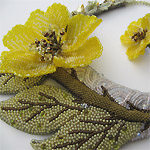 People's Choice Award
Alexandra Sydorenko, Cherry Hill, NJ, USA ( email )

Jurors say,

"Gorgeous flower dripping with water! The buds climbing up the side are so delicate and work so beautifully with the leaf clasp. I love how you continued the leaf stem into a twirling vine." "A beautifully made eye-catching piece with a very pleasing shape. I particularly liked the use of the pearls as buds." "Amazingly balanced intricate set, stunning design!"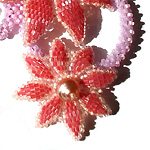 Best Use of Color
Tatiana Naumchik, Astana, Kazakhstan ( email )

Jurors say,

"So perfectly named! Your piece feels like spring bursting in bloom and yet so delicate and feminine." "A beautifully made visually pleasing design that perfectly combines the chosen color combination." "Distinguished using of classical designs in combination of the contest colors. "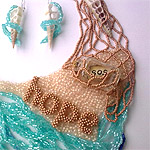 Best Use of Materials
Viktoriya Katamashvili, Nizhniy Novgorod, Russia ( email website )

Hope, Footsteps On The Sand Set

Jurors say,

"You captured the essence of summer at the beach!! Your set is alive with color, texture and imagery. I especially love the swirl of water on your bracelet." "A very original and imaginative piece. I particularly like the asymmetric layout and use of beaded letters to tell the story." "Quite original design that can be called art painting. Eye-catching picturesque work."
What our jurors say

Beverly Ash Gilbert, USA ( email website )
Zoya, I can't believe you and your husband set up the website/contest process - so professional and easy!!! Fabulous job! So, my thoughts on contest in general and judgment process: Very well done, very easy to judge, with beautiful results. Your website was fabulous (as I mentioned above!).
My wish to all participants: I was so impressed by the diversity of style and color in the entries - even though the color parameters were set, there was still so much personality that came through on each piece. I have to say... I have a really hard time creating under strict guidelines so I actually felt a bit constrained when the color combos were presented (and I wasn't even participating!). However, I was blown away by the results - obviously the contestants weren't intimidated! My hope is that you continue to play with color, follow your own path and create for the most important person in your creative journey - yourself.

Albina Polyanskaya, Ukraine ( email website )
It was a great honor as well as a great responsibility to be a juror in such an exciting beading contest! The entrants presented many original beautiful designs and showed their amazing skills. It wasn't easy to create beadworks using strongly predefined by contest rules color combinations, different techniques and materials, and in my turn, it wasn't easy to score them considering all craftsmanship aspects.
What I want to note is a jurors' interface, that was very comfortable to work with and allowed jurors honest and fair judgment. I think it was a very intriguing feature, when contest website visitors could see just small details of all entries. I was happy to look at the full-size pictures of beadworks, and every time opening a picture I was wondering how beautiful they were.
I'd like to congratulate all winners, finalists, participants, sponsors, and other jurors with the new international high-level beading contest Fashion Coloworks! I wish you happy beading and best of luck!

Kerrie Slade, UK ( email website )
When Zoya first asked me to be one of the jurors of her new contest, I was honored, but I don't think I really grasped what it meant and what would be involved. I judged the 132 entries in several sessions and each time it struck me just how much thought, work and attention to detail had gone into each piece. I realized then, that it was important for me to look at each piece individually through my own eyes, but also the eyes of the person who had lovingly beaded it.
This was a great learning experience for me too, as for example, not all of the color combinations would have been my own choice, but it was clear that the contestants had worked within the constraints of the challenge and so I needed to look beyond my first reactions. I thoroughly enjoyed the contest from start to finish, the standard of work was very high and the judging process was easy to understand, professional and comprehensive. Thank you to Zoya for setting the challenge and inviting me to be one of the jurors and thank you also to all the participants for entering into the spirit of the challenge and for creating such innovative and thought provoking beadwork!
What our sponsors say

Duchess & Reyna, Marketing Department, Artbeads.com:
Congratulations Zoya on your first Fashion Colorworks 2010 Beading Contest! We thank you for bringing together beaders worldwide and for showcasing their extraordinary talent and creativity. It was great to be a part of this exciting beading competition and play a part in its beginning.
We also want to extend our appreciation to all of the participants who sent in their beautiful and inspirational designs. The level of talent in this competition was spectacular and the designs truly an honor to see. We at Artbeads.com wish everyone the best in the future and look forward to next year's competition!

Claire Humpherson, Marketing Manager, Beads Direct Ltd:
Wow, your competition entries are all so fantastic! I have chosen the following winner for "Best Use of Materials": Hope, Footsteps On The Sand Set. I chose this because I love the incorporation of the shells into the piece, and also how beads have been used to spell out the message. I also love the mini message in a bottle, I think this is great attention to detail and theme. I think this is an innovative use of materials overall.
My other favorites were The G&S Necklace, as I don't often see seed bead work combined with wire in this way, Epatage Necklace as I don't often see seed beads used with chain, and Blue Lagoon Necklace as I thought the use of the donut pendant was innovative. Overall I thought the standard of entries was terrific and extremely inventive. An absolutely superb effort from everyone, there is so much talent out there!

Sara Hardin, Marketing Manager, Soft Flex Company:
Wow! The Fashion Colorworks Contest inspired some very neat designs. All too often, beading is considered more craft and less high fashion. This contest is a wonderful showcase of how high fashion and beading can work together to create looks that are current and modern for today's woman. Soft Flex Company enjoyed sponsoring this wonderful event.
Note
If you don't see the newsletter properly formatted please click here: Contest Issue.

Contact us with any questions at info@mylovelybeads.com.